Donate now to support the LLIFLE projects.
Your support is critical to our success.
Since 4 Aug 2013
Accepted Scientific Name: Astrophytum asterias (Zucc.) Lem.
Cactées 50. 1868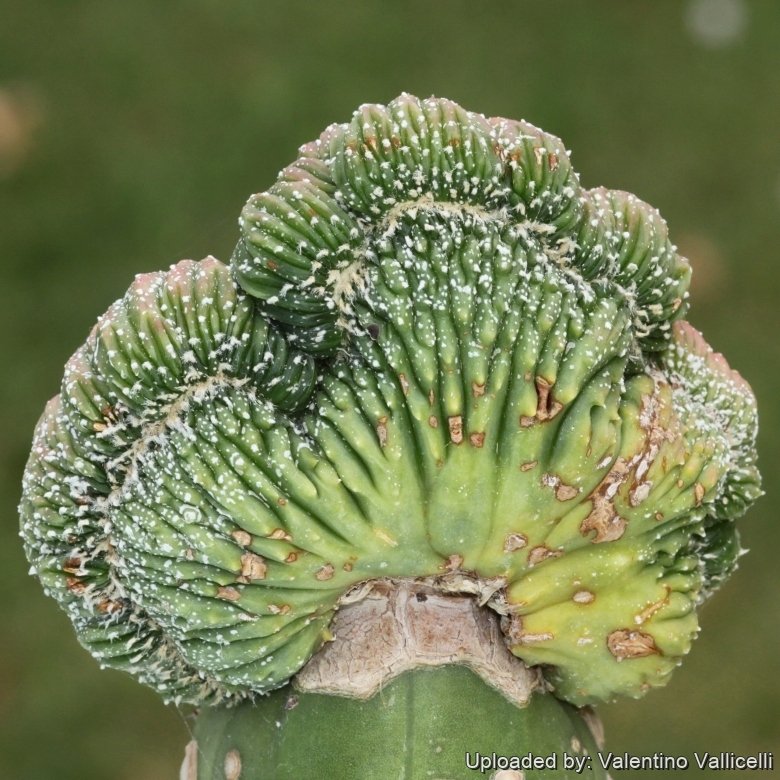 Astrophytum asterias f. cristatum Photo by: Valentino Vallicelli
Origin and Habitat: Garden origin (Nursery produced cultivar)
Synonyms:
See all synonyms of Astrophytum asterias
Accepted name in llifle Database:
Astrophytum asterias
(Zucc.) Lem.
Cactées 50. 1868
Synonymy: 18
Cultivars (73):
Astrophytum asterias cv. Super Kabuto
Description: Astrophytum asteris (a.k.a. Sea-Urchin Cactus or Sand Dollar) is a well known flat barrel cactus with unique and remarkably beautiful form and no typical covering of spines, but with tiny speckled tuft of hairs less than pinhead-sized.
Crested form: The crested form (Astrophytum asteris f. cristata) - despite to its beauty - is very rare and sought after by collectors, for its unique features. There are several crested clones mainly selected by Asian growers.
Habit: It is a small low growing crested cactus that will slowly forms tangled groups up to 30 cm (or more ) in diameter with age. The plant tends to grow seated in substrate, but in cultivation it is almost always seen grafted on columnar cacti.
Roots: The main root is somewhat fleshy with fine diffuse roots.
Stem: Fan shaped, somewhat depressed at apex, grey-green to dull green (unless stressed), mature plants up to 30 cm (or more in diameter, dotted with numerous minuscule tufts of bright white wool (hairy scales). These hairy scales are usually loose, sprinkled over the stem in irregular patterns, sometimes arched around the areoles or on line. Cultivated plants possess sometimes very dense and big hairy scales. The short white wool on surface, said to substitute for lack of shade from spines. There are also completely flake free pure green clones.
Ribs: The ribs are very low, almost flat on top with no cross-grooves.
Areoles: Round, prominent, 3-12 mm in diameters, forming a line up to the centre of each rib, felted to hairy, white, creamy, dirty-yellow till straw-coloured, then grey. Normally 3 to 10 mm apart.
Spines: Not any.
Flowers: Apical, diurnal, radial, 3-5 cm long, 5-7(-9) cm in diameter opening widely, yellow with orange/red throats. Ovary and tube very short, densely covered with thin, bristle-like, black tipped scales and with cobwebby wool in axils. Outer tepals short, narrow, pointed, greenish, covered with short fuzz on outer surfaces; inner tepals long, slightly spatulate, from narrow orange-red bases; upper parts clear yellow, edges entire, tips entire and slightly pointed to erose and irregular. Filaments orange at bases, yellow above, anthers and pollen yellow. Style yellowish with 10-12 yellowish-green stigma lobes.
Blooming season: The flowers are unusual and eventually produced only by some clones.
Fruits: Oval to round, about 1,5-2 cm long, green, pinkish or greyish-red densely covered with spines and dull-white wool, becoming dry and finally breaking off at or near base (not opening above the base).
Seeds: Black or dark brown, glossy, bowl to helmet shaped about 2 mm long, 3 mm broad.
Similar species: Astrophytum asterias is sometimes confused with peyote (Lophophora williamsiiSN|1117]]SN|1117]]). Both species are spine-less, and peyote often has 8 ribs. However, peyote is bluish-green but has irregularly shaped ribs and lacks the tiny whitish scales.
Remarks: The stem is said to be suffused with chemical compounds distasteful to herbivores.

Subspecies, varieties, forms and cultivars of plants belonging to the Astrophytum asterias group
Bibliography: Major references and further lectures
1) Edward Anderson "The Cactus family" Timber Press, Incorporated, 2001
3) James Cullen, Sabina G. Knees, H. Suzanne Cubey "The European Garden Flora Flowering Plants: A Manual for the Identification of Plants Cultivated in Europe, Both Out-of-Doors and Under Glass" Cambridge University Press, 11/Aug/2011
4) David R Hunt; Nigel P Taylor; Graham Charles; International Cactaceae Systematics Group. "The New Cactus Lexicon" dh books, 2006
5) N. L. Britton, J. N. Rose: "The Cactaceae. Descriptions and Illustrations of Plants of the Cactus Family." Volume III, The Carnegie Institution of Washington, Washington 1922
6) Brian Loflin, Shirley Loflin "Texas Cacti: A Field Guide" Texas A&M University Press, 26/Oct/2009
7) Albert Michael Powell, James F. Weedin "Cacti of the Trans-Pecos and Adjacent Areas" Texas Tech University Press, 2004
8) Del Weniger "Cacti of Texas and Neighboring States: A Field Guide" University of Texas Press, 1984
9) Alfred Richardson "Plants of Deep South Texas: A Field Guide to the Woody and Flowering Species" Texas A&M University Press, 2010
10) Jackie M. Poole, William R. Carr, Dana M. Price "Rare Plants of Texas: A Field Guide" Texas A&M University Press, 2007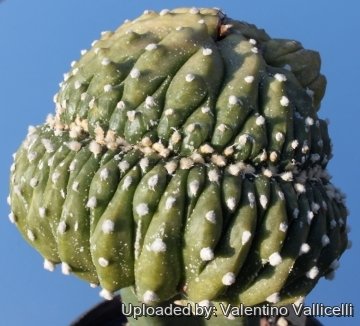 Astrophytum asterias f. cristatum
Photo by: Valentino Vallicelli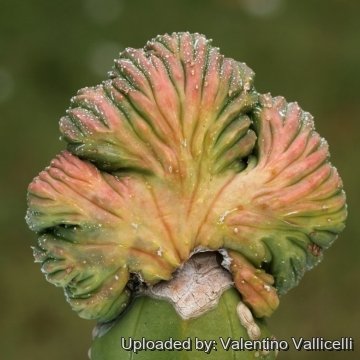 Astrophytum asterias f. cristatum
Photo by: Valentino Vallicelli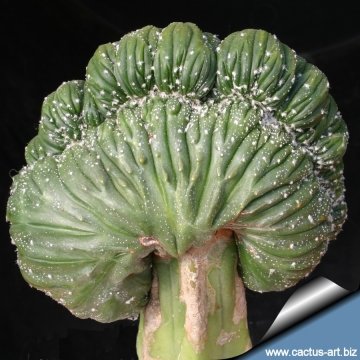 Astrophytum asterias f. cristatum
Photo by: Cactus Art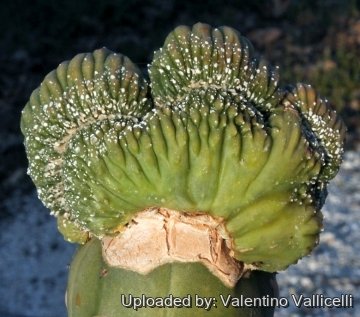 Astrophytum asterias f. cristatum
Photo by: Valentino Vallicelli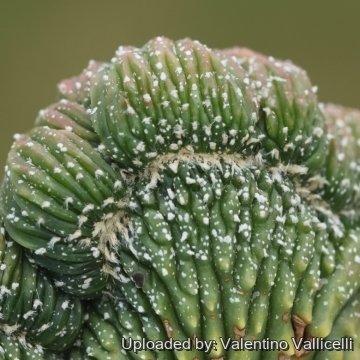 Astrophytum asterias f. cristatum
Photo by: Valentino Vallicelli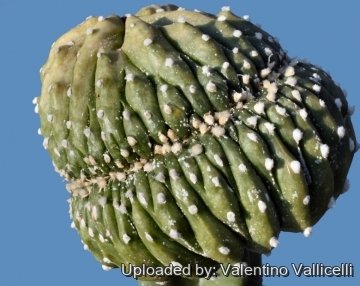 Astrophytum asterias f. cristatum
Photo by: Valentino Vallicelli
Cultivation and Propagation: Although regarded as a choice and difficult plant is not too difficult in a greenhouse, but grows quite slowly. It is sometime seen as a grafted plant but grows on its own roots too. Use mineral well permeable mineral soil with little organic matter (peat, humus). Water sparingly from March till October (weekly during summertime, if the weather is sunny enough), with a little fertilizer added. keep perfectly dry in winter at temperatures from 5 to 15 degrees centigrade. (but it is relatively cold resistant and hardy to -7° (-10°)C for short periods) In the rest period no high atmospheric humidity!! They need a good amount of light shade to full sun this help to keep the plants healthy, although slow growth.
Propagation: Grafting or cuttings. Plants are usually grafted onto column-shaped cacti but proved to be able to produce their own roots if degrafted.