Donate now to support the LLIFLE projects.
Your support is critical to our success.
Since 4 Aug 2013
Accepted Scientific Name: Astrophytum asterias (Zucc.) Lem.
Cactées 50. 1868
Astrophytum asterias f. proliferum Photo by: Valentino Vallicelli
The branching habit of this cultivar is an uncommon characteristic rarely seen in this species.
Origin and Habitat: Japan ? Garden origin (Nursery produced cultivar)
Synonyms:
See all synonyms of Astrophytum asterias
Accepted name in llifle Database:
Astrophytum asterias
(Zucc.) Lem.
Cactées 50. 1868
Synonymy: 18
Cultivars (73):
Astrophytum asterias cv. Super Kabuto
Description: This cultivar varies from the typical A. asterias for the tendency to branch forming small side pups from the areole..
Stem: Dimension 3-7cm tall, 5-10 cm in diameter.
Ribs: Usually 8.
Flowers: Like those of A. asterias, yellow with a red throat.
Blooming season: Spring to summer.
Subspecies, varieties, forms and cultivars of plants belonging to the Astrophytum asterias group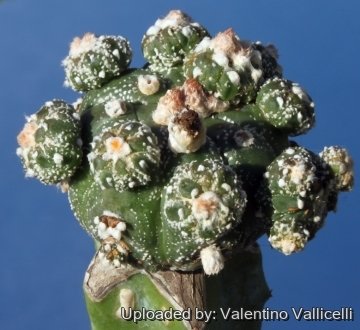 Astrophytum asterias f. proliferum
Photo by: Valentino Vallicelli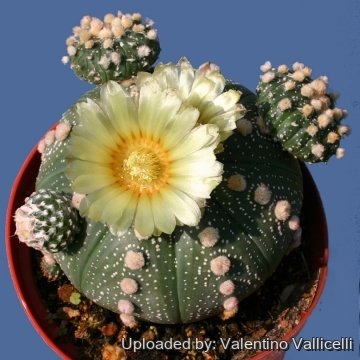 Astrophytum asterias f. proliferum
Photo by: Valentino Vallicelli
Cultivation and Propagation: Although regarded as a choice and difficult plant in cultivation, it is relatively easy to grow. It is sometime seen as a grafted plant, but grows very well on its own roots too. Use mineral, well permeable substratum with little organic matter (peat, humus). Water sparingly from March until October, and keep perfectly dry in winter, at temperatures from 5 to 15 degrees centigrade. (but it is Hardy to -7°C for short periods). In the rest period no high atmospheric humidity!! Sun Exposure: Light shade to full sun.

Propagation: Almost exclusively by seed. Plants are sometimes grafted onto column-shaped cacti.