Donate now to support the LLIFLE projects.
Your support is critical to our success.
Astrophytum asterias cv. Godzilla Photo by: Flavio Agrosi
Rare form...Astrophytum asterias cv. ''GODZILLA'' Shao Yu Cian (Taiwan)
Origin and Habitat: Garden origin (Nursery produced cultivar). There are several forms mainly selected by Asian growers, particularly in Japan.
Synonyms:
See all synonyms of Astrophytum asterias
Accepted name in llifle Database:
Astrophytum asterias
(Zucc.) Lem.
Cactées 50. 1868
Synonymy: 18
Cultivars (73):
Astrophytum asterias cv. Super Kabuto
Description: Astrophytum asteriasSN|1464]]SN|1464]] (a.k.a. Sea-Urchin Cactus or Sand Dollar) is an extremely flat barrel cactus with unique and remarkably beautiful form and no typical covering of spines, but with tiny speckled tuft of hairs less than pinhead-sized. Many different odd forms and cultivars of A. asterias have been selected by Asian growers, are now available.
Astrophytum asterias cv. GodzillaSN|18060]]SN|18060]] This is a very odd cultivars that combines the peculiar shape of Astrophytum asteriasSN|1464]]SN|1464]] with a bumpy reptile-like skin. This cultivar is very rare and sought after by collectors, for its unique features. There are several forms mainly selected by Asian growers.
Roots: The underground body is fleshy, turnip-like, with fine diffuse roots.
Stem: Non-branched, much depressed, disc-shaped to low dome-shaped, grey-green to dull green (unless stressed), mature plants up to 7 cm tall, 5-16 cm broad.
Ribs: Usually 8 broad, very low, irregularly bumped and reptile-like, woth wrinkled cross-grooves. The normal rib number eight is very stable but selected cultivars and hybrids can have from 4 to 13 ribs.
Areoles: Round, prominent, 3-12 mm in diameters, felted to hairy, white, creamy, dirty-yellow till straw-coloured, then grey.
Spines: Not any.
Flowers: Apical, diurnal, radial, 3-5 cm long, 5-9 cm in diameter opening widely, yellow with orange/red throats. Ovary and tube very short, densely covered with thin, bristle-like, black tipped scales and with cobwebby wool in axils.
Blooming season: Spring to summer and each flower lasts for one or two days only, but the plant may flower at any time during the warmer months of the year if adequate water is provided.
Fruits: Oval to round, about 1,5-2 cm long, green, pinkish or greyish-red densely covered with spines and dull-white wool, becoming dry and finally breaking off at or near base (not opening above the base).
Seeds: Black or dark brown, glossy, bowl to helmet shaped about 2 mm long, 3 mm broad.
Subspecies, varieties, forms and cultivars of plants belonging to the Astrophytum asterias group
Bibliography: Major references and further lectures
1) Edward Anderson "The Cactus family" Timber Press, Incorporated, 2001
3) James Cullen, Sabina G. Knees, H. Suzanne Cubey "The European Garden Flora Flowering Plants: A Manual for the Identification of Plants Cultivated in Europe, Both Out-of-Doors and Under Glass" Cambridge University Press, 11/Aug/2011
4) David R Hunt; Nigel P Taylor; Graham Charles; International Cactaceae Systematics Group. "The New Cactus Lexicon" dh books, 2006
5) N. L. Britton, J. N. Rose: "The Cactaceae. Descriptions and Illustrations of Plants of the Cactus Family." Volume III, The Carnegie Institution of Washington, Washington 1922
6) Brian Loflin, Shirley Loflin "Texas Cacti: A Field Guide" Texas A&M University Press, 26/Oct/2009
7) Albert Michael Powell, James F. Weedin "Cacti of the Trans-Pecos and Adjacent Areas" Texas Tech University Press, 2004
8) Del Weniger "Cacti of Texas and Neighboring States: A Field Guide" University of Texas Press, 1984
9) Alfred Richardson "Plants of Deep South Texas: A Field Guide to the Woody and Flowering Species" Texas A&M University Press, 2010
10) Jackie M. Poole, William R. Carr, Dana M. Price "Rare Plants of Texas: A Field Guide" Texas A&M University Press, 2007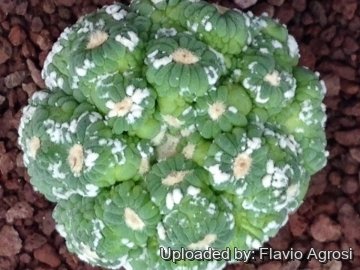 Rare form...Astrophytum asterias cv. ''GODZILLA''
Photo by: Flavio Agrosi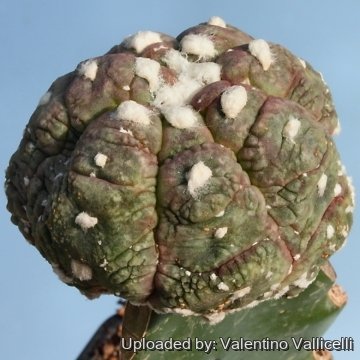 - This cultivar is easily recognizable for the reptile-like skin.
Photo by: Valentino Vallicelli
Astrophytum asterias cv. Godzilla
Photo by: Valentino Vallicelli
Send a photo of this plant.
The gallery now contains thousands of pictures, however it is possible to do even more. We are, of course, seeking photos of species not yet shown in the gallery but not only that, we are also looking for better pictures than those already present.
Read More...
Cultivation and Propagation: Astrophytum asterias cv. GodzillaSN|18060]]SN|18060]] is not too difficult in a greenhouse, although grows quite slowly. It is usually seen as a grafted plant but can grow on its own roots too.
Soil: Use a mineral well permeable soil with little organic matter (peat, humus).
Exposure: They need a good amount of light shade to full sun this help to keep the plants healthy, although slow growth. Keep well ventilated, as it is prone to root rot.
Watering: Water sparingly from March till October (weekly during summertime, if the weather is sunny enough), with a little fertilizer added. Less or no water during cold winter months, or when night temperatures remain below 10° to prevent root loss. It is sensitive to overwatering (rot prone).
Fertilization: Feeding may not be necessary at all if the compost is fresh then, feed in summer only if the plant hasn't been repotted recently. Do not feed the plants from September onwards as this can cause lush growth which can be fatal during the darker cold months.
Hardiness: Keep perfectly dry in winter at temperatures from 5 to 15 degrees centigrade. In the rest period no high atmospheric humidity!!
Monstrous growth: Monstrous varieties of plants, where the variation from normal growth is due to genetic mutation, can occur randomly on normal plants. Sometimes it's due to damage, but generally the causes are unknown. A monstrous plant may may revert to normal growth for no apparent reason.
Propagation: Grafting (usually) or by cuttings that are hard to root. Plants are usually grafted onto column-shaped cacti but proved to be able to produce their own roots if degrafted. Cuttings will take root in a minimum temperature of 20° C (but better in hot weather).