Donate now to support the LLIFLE projects.
Your support is critical to our success.
Since 4 Aug 2013
sponsored link
Accepted Scientific Name: Astrophytum asterias (Zucc.) Lem.
Cactées 50. 1868
Astrophytum asterias f. aurea Photo by: Valentino Vallicelli
Origin and Habitat: Garden origin (Nursery produced cultivar)
Synonyms:
See all synonyms of Astrophytum asterias
Accepted name in llifle Database:
Astrophytum asterias
(Zucc.) Lem.
Cactées 50. 1868
Synonymy: 18
Cultivars (73):
Astrophytum asterias cv. Super Kabuto
Description: Astrophytum asteriasSN|1464]]SN|1464]] (a.k.a. Sea-Urchin Cactus or Sand Dollar) is an extremely flat barrel cactus with unique and remarkably beautiful form and no typical covering of spines, but with tiny speckled tuft of hairs less than pinhead-sized.
Forma aurea or aurata (yellow form): The schizochromic form (Astrophytum asteriasSN|1464]]SN|1464]] f. aurea) has pale yellow stems due to the absence (or reduced production) of chlorophyll pigments: every other pigment is present at normal levels, the dominant green colouration is lost, but will still more than likely have normal other pigments that give the yellow overall appearance of the stem. This form with yellow stems is very attractive and highly prized. This schizochromic form is almost always seen grafted on stronger columnar species, and cannot can be grown on its own roots. However some clones have enough chlorophyll in their tissues and can be grown on they own roots too, but very slow growing.
Habit: It is usually solitary unless damaged.
Stem: Cream-yellow to bright golden yellow, much depressed, disc-shaped to low dome-shaped (Only in cultivation plants may have a spherical till columnar shape, mature plants 2-7 cm tall, 5-16 cm broad, dotted with numerous minuscule tufts of bright white wool (hairy scales). Cultivated plants possess sometimes very dense and big hairy scales. The short white wool on surface, said to substitute for lack of shade from spines. There are also completely flake free specimens.
Ribs: The stem is typically divided by very narrow but distinct vertical grooves into 8 broad ribs. The ribs are very low, almost flat on top, forming triangular sections with no cross-grooves.
Areoles: Round, prominent, 3-12 mm in diameters, forming a line up to the centre of each rib, felted to hairy, white till straw-coloured, then grey. Normally 3 to 10 mm apart.
Spines: Not any.
Flowers: Apical, diurnal, radial, 3-5 cm long, 5-7(-9) cm in diameter opening widely, yellow with orange/red throats.
Blooming season: Spring to summer and each flower lasts for one or two days only.
Subspecies, varieties, forms and cultivars of plants belonging to the Astrophytum asterias group
Notes: Notes: Albinism, Schizochromism & Variegation
Variegation: A variegated plant has sectors, patches or stripes with two or more different colours, even distinct shades of green. Plants with variegated stems or leaves are often attractive and highly prized. In most species the stems or leaves are normally green, and variegated epidermis is an uncommon mutation, termed a chimera. A chimeral variegation is due to losing the ability to produce chlorophyll in some of the plant's tissue, so that this tissue is no longer green. Tissues lacking chlorophyll are usually white or pale yellow coloured (due to carotenoid pigments) or red (due to betalain or anthocyanin pigments) contrasting with the normal green tissue. There are several forms of variegation, depending on the tissues that have been affected. The variegation in some forms is unstable. The extent and nature of the variegation can vary, and sometimes the plant will return to the green form. In others it is stable and does not change under normal conditions. Because the variegation is due to the presence of two kinds of plant tissue, propagating the plant must be by a vegetative method of propagation that preserves both types of tissue in relation to each other.
Albinism: Every once in a while a plant exhibits albinism (completely lacking chlorophyll pigment). This means that its tissue is unable to carry out photosynthesis. The result is a completely cream-white yellow or reddish plant. This plant will be weaker than a green plant, and albinism is generally a fatal trait (it can't produce its own food and it's not getting it from anything else). Without chlorophyll, the albino plant has no way to manufacture the food needed for survival and growth to maturity. This implies that these plants cannot survive on their own roots and necessitate being grafted on a normal green plant that provides food. Some of these albino plants are indeed very popular, and sought after by collectors.
Schizochromism: The yellow or red appearance of some plants is more precisely caused by another aberration called "schizochromism". Here, though, the specific green pigment (chlorophyll) is missing: every other pigment is present at normal levels. The dominant green colouration is lost, but the plant will still more than likely have normal other pigments that give the yellow overall appearance of stems and the red colouration of spines.
Bibliography: Major references and further lectures
1) Edward Anderson "The Cactus family" Timber Press, Incorporated, 2001
3) James Cullen, Sabina G. Knees, H. Suzanne Cubey "The European Garden Flora Flowering Plants: A Manual for the Identification of Plants Cultivated in Europe, Both Out-of-Doors and Under Glass" Cambridge University Press, 11/Aug/2011
4) David R Hunt; Nigel P Taylor; Graham Charles; International Cactaceae Systematics Group. "The New Cactus Lexicon" dh books, 2006
5) N. L. Britton, J. N. Rose: "The Cactaceae. Descriptions and Illustrations of Plants of the Cactus Family." Volume III, The Carnegie Institution of Washington, Washington 1922
6) Brian Loflin, Shirley Loflin "Texas Cacti: A Field Guide" Texas A&M University Press, 26/Oct/2009
7) Albert Michael Powell, James F. Weedin "Cacti of the Trans-Pecos and Adjacent Areas" Texas Tech University Press, 2004
8) Del Weniger "Cacti of Texas and Neighboring States: A Field Guide" University of Texas Press, 1984
9) Alfred Richardson "Plants of Deep South Texas: A Field Guide to the Woody and Flowering Species" Texas A&M University Press, 2010
10) Jackie M. Poole, William R. Carr, Dana M. Price "Rare Plants of Texas: A Field Guide" Texas A&M University Press, 2007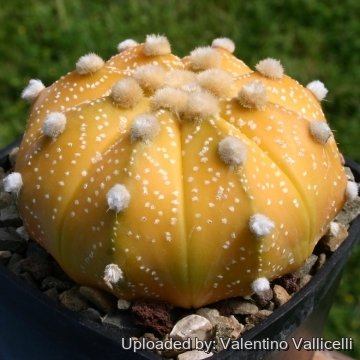 Astrophytum asterias f. aurea
Photo by: Valentino Vallicelli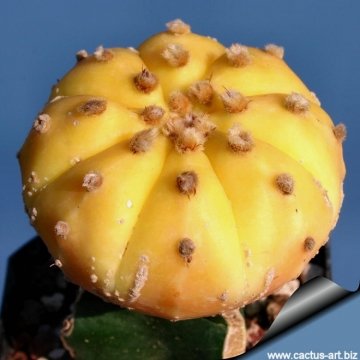 Astrophytum asterias f. aurea
Photo by: Cactus Art
Cultivation and Propagation: Variegated and albinos cacti are regarded as choice and difficult in cultivation, but despite that many of them are relatively easy to grow. But be aware that they cannot tolerate prolonged exposure to direct sun light (especially during the hottest summer days), so grow them in half-shade or under filtered sun. They are sometime seen as grafted plants, but many grow well on their own roots, too.
On the contrary, the albinos can survive only if grafted on a strong green base.
Use mineral well-permeable substratum with little organic matter (peat, humus). Water sparingly from March till October and keep perfectly dry in winter at temperatures from 5 to 15 degrees centigrade. (In general these plants are more tender and cannot endure freezing temperatures ) In the rest period no high atmospheric humidity!!
Propagation: Usually by seed. Plants are often grafted onto column-shaped cacti.