Donate now to support the LLIFLE projects.
Your support is critical to our success.
Since 4 Aug 2013
sponsored link
Astrophytum asterias cv. Kikko Lizard Skin Photo by: Prof. Ilham Alakbarov
Origin and Habitat: Garden origin (Nursery produced cultivar)
Synonyms:
See all synonyms of Astrophytum asterias
Accepted name in llifle Database:
Astrophytum asterias
(Zucc.) Lem.
Cactées 50. 1868
Synonymy: 18
Cultivars (73):
Astrophytum asterias cv. Super Kabuto
Description: Astrophytum asterias cv. Kikko Lizard SkinSN|26213]]SN|26213]] (a.k.a. Kikko new China form) is a odd looking form with broad raised tubercles with a Lizard Skin and the plant appears decorated with a geometrical design which is raised above the surface, giving it a bumpy look.
Stem: Spherical flattened usually non-branched. Diameter 3(8)16 cm. Height 2 to 6 cm.
Ribs: Not visible.
Tubercles: 1-4 cm broad, bag like, well separated, basally constricted, enlarging toward the very broad truncate or depressed apex. Apical face broadly elliptical and irregular. Skin wrinkled, lizard-like, green to dull olive-green often scattered with wart-like projections. Especially the nude form resemble some chinned cacti particularly Ariocarpus retususSN|2079]]SN|2079]] cv. Cauliflower. Usually the young seedlings appear nothing special and barely shows any trace of bag-like tubercles, but they start to produce the distinguishing tubecles and turn into an amazing adult as they get 3 to 7 years old. In general the bigger the "bag-like teeth" are and the rounder and flatter they are, the better.
Areoles: Cream-coloured till white, woolly, at the apex of tubercles, often sunken, very elongate 2-6 x 5-20 mm broader than longer. The areoles are normally set in a separation up to 1-3 cm.
Spines: None.
Flowers: Like those of the well known asterias yellow with a red throat.
Blooming season: Spring to summer.
Subspecies, varieties, forms and cultivars of plants belonging to the Astrophytum asterias group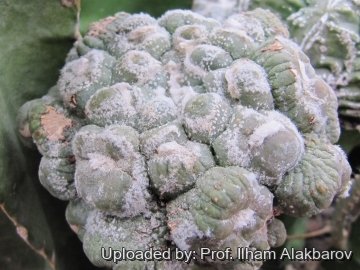 Astrophytum asterias cv. Kikko Lizard Skin
Photo by: Prof. Ilham Alakbarov
Send a photo of this plant.
The gallery now contains thousands of pictures, however it is possible to do even more. We are, of course, seeking photos of species not yet shown in the gallery but not only that, we are also looking for better pictures than those already present.
Read More...
Cultivation and Propagation: It is not too difficult in a greenhouse, although grows quite slowly.
Soil: The plants need a loose well-drained mineral soil.
Exposure: They need a good amount of light.
Watering: Watering can be done weekly during summertime, if the weather is sunny enough, with a little fertilizer added. Kept this way, plants will show a healthy, although slow growth.
Hardiness They are frost hardy to -4° C
Propagation: By seeds, remembering that seedlings dislike strong light and dry conditions and need to be repotted frequently. Eventually, as they become mature, they attain a maximum size of 8-10 cm (20) cm. However, old plants become senile and have a tendency to succumb to disease and a weak root system. At this stage, as is well known, they die suddenly. So, after they reach 10 cm in diameter grow them slowly, and adopt a new repotting period, using intervals of every 2 - 3 years. Additionally grow them under drier conditions or with stronger sunlight. But plants are often grafted to accelerate growth as they would generally take at least a five years to reach maturity on their own, but the grafted plants are typical rather tall growing, compared with plants on their own roots that are usually more flat to the ground.