Donate now to support the LLIFLE projects.
Your support is critical to our success.
Accepted Scientific Name: Astrophytum asterias cv. Showa Red
(= Syowa Kabuto)
Astrophytum asterias cv. Shinshowa Akabana (Astrophytum asterias cv. Showa Red) Photo by: Agócs György
Origin and Habitat: Garden origin (Nursery produced cultivar)
Synonyms:
See all synonyms of Astrophytum asterias
Accepted name in llifle Database:
Astrophytum asterias
(Zucc.) Lem.
Cactées 50. 1868
Synonymy: 18
Cultivars (73):
Astrophytum asterias cv. Super Kabuto
Description: Astrophytum asterias cv. ShowaSN|17951]]SN|29677]] (synonyms Syowa or Shinshowa kabuto) is a classic asterias with very fine petals, cut into shreds. The flowers look quite different for an "Astro" but nice and come in two colours: yellow (classic) and red . The latter (discovered by T. Sato) is known as Astrophytum asterias cv. Shinshowa RedSN|29677]]SN|17951]]. Red blooms, are very uncharacteristic of this genus and a rarity in collections. This selected cultivars bears beautiful flowers shaded in dark pinkish-red, orange-red or purple wine-red.
Roots: The underground body is fleshy, turnip-like, with fine diffuse roots.
Stem: Non-branched, much depressed, disc-shaped to low dome-shaped, grey-green to dull green (unless stressed), mature plants 2-7 cm tall, 5-16 cm broad, dotted with numerous minuscule tufts of bright white wool (hairy scales). These hairy scales are usually loose, sprinkled over the stem in irregular patterns, sometimes arched around the areoles or on line. Cultivated plants possess sometimes very dense and big hairy scales. The short white wool on surface, said to substitute for lack of shade from spines. There are also completely flake free pure green specimens.
Ribs: The stem is typically divided by very narrow but distinct vertical grooves into 8 broad ribs. The ribs are very low, almost flat on top, forming triangular sections with no cross-grooves. The normal rib number eight is very stable in wild specimens, independent of the age of the plant, but in cultivation selected cultivars and hybrids can have from 4 to 13 ribs.
Areoles: Round, prominent, 3-12 mm in diameters, forming a line up to the centre of each rib, felted to hairy, white, creamy, dirty-yellow till straw-coloured, then grey. Normally 3 to 10 mm apart, but sometime very close one to each other in cultivated plants.
Spines: Not any. Only seedlings show some rudimentary spines within the first weeks and months.
Flowers: Apical, diurnal, radial, 3-5 cm long, 5-7(-9) cm in diameter opening widely, shaded in dark pinkish-red, orange-red or purple wine-red. Ovary and tube very short, densely covered with thin, bristle-like, black tipped scales and with cobwebby wool in axils. Petals long, very fine, shred-like, from narrow purple-red bases; upper parts clear pink, orange or red, edges entire, tips entire and slightly pointed. Filaments orange at bases, yellow above, anthers and pollen yellow. Style yellowish with 10-12 yellowish-green stigma lobes.
Blooming season: It may flower at any time during the warmer months of the year if adequate water is provided and each flower lasts for one or two days only.
Fruits: Oval to round, about 1,5-2 cm long, green, pinkish or greyish-red densely covered with spines and dull-white wool, becoming dry and finally breaking off at or near base (not opening above the base).
Seeds: Black or dark brown, glossy, bowl to helmet shaped about 2 mm long, 3 mm broad.
Subspecies, varieties, forms and cultivars of plants belonging to the Astrophytum asterias group
Bibliography: Major references and further lectures
1) Edward Anderson "The Cactus family" Timber Press, Incorporated, 2001
2) Tony Sato "Astrophytum Handbook VOL.1 ASTERIAS FAMILY" Japan Cactus Planning Co Press 1973
3) James Cullen, Sabina G. Knees, H. Suzanne Cubey "The European Garden Flora Flowering Plants: A Manual for the Identification of Plants Cultivated in Europe, Both Out-of-Doors and Under Glass" Cambridge University Press, 11/Aug/2011
4) David R Hunt; Nigel P Taylor; Graham Charles; International Cactaceae Systematics Group. "The New Cactus Lexicon" dh books, 2006
5) N. L. Britton, J. N. Rose: "The Cactaceae. Descriptions and Illustrations of Plants of the Cactus Family." Volume III, The Carnegie Institution of Washington, Washington 1922
6) Brian Loflin, Shirley Loflin "Texas Cacti: A Field Guide" Texas A&M University Press, 26/Oct/2009
7) Albert Michael Powell, James F. Weedin "Cacti of the Trans-Pecos and Adjacent Areas" Texas Tech University Press, 2004
8) Del Weniger "Cacti of Texas and Neighboring States: A Field Guide" University of Texas Press, 1984
9) Alfred Richardson "Plants of Deep South Texas: A Field Guide to the Woody and Flowering Species" Texas A&M University Press, 2010
10) Jackie M. Poole, William R. Carr, Dana M. Price "Rare Plants of Texas: A Field Guide" Texas A&M University Press, 2007
Astrophytum asterias cv. Shinshowa Akabana
(Astrophytum asterias cv. Showa Red)
Photo by: Agócs György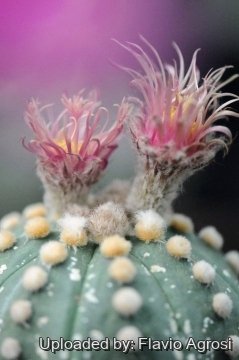 - Astrotrophytum asterias "shinshowa red"
(Astrophytum asterias cv. Showa Red)
Photo by: Flavio Agrosi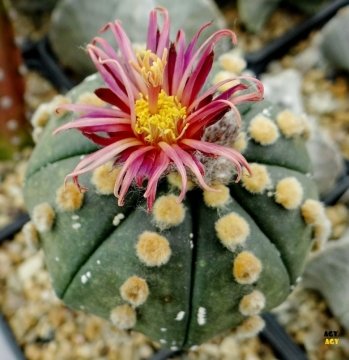 Flowering habit. Rebutialand - Cactus collection.
(Astrophytum asterias cv. Showa Red)
Photo by: Agócs György
Astrophytum asterias cv. Shinshowa Akabana
(Astrophytum asterias cv. Showa Red)
Photo by: Agócs György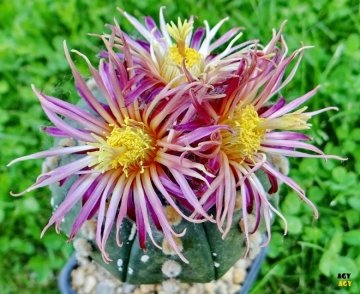 Astrophytum asterias cv. Shinshowa Akabana
(Astrophytum asterias cv. Showa Red)
Photo by: Agócs György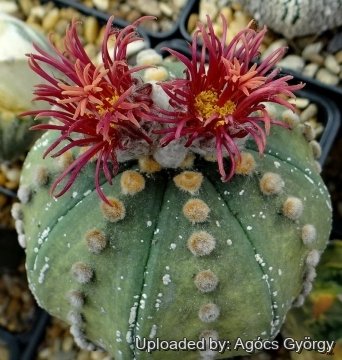 Astrophytum asterias cv. Shinshowa Akabana
(Astrophytum asterias cv. Showa Red)
Photo by: Agócs György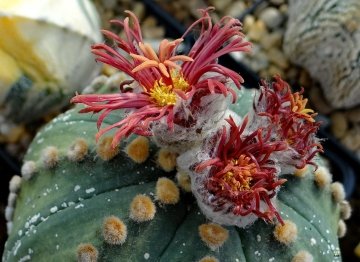 Astrophytum asterias cv. Shinshowa Akabana
(Astrophytum asterias cv. Showa Red)
Photo by: Agócs György
Send a photo of this plant.
The gallery now contains thousands of pictures, however it is possible to do even more. We are, of course, seeking photos of species not yet shown in the gallery but not only that, we are also looking for better pictures than those already present.
Read More...
Cultivation and Propagation: Astrophytum asteriasSN|1464]]SN|1464]] is a summer grower species relatively easy to grow. It is sometime seen as a grafted plant but grows very well on its own roots too. It is not too difficult in a greenhouse, although grows quite slowly.
Soil: Use mineral well permeable substratum with little organic matter (peat, humus), plants may become too elongated if compost is too rich.
Repotting: Re-pot every 2 years. Use pot with good drainage.
Fertilization: It grows much faster with a low nitrogen content fertilizer in spring and summer. Potassium helps maintaining the plants compact and healthy.
Watering: Requires careful watering to keep plant compact. Water sparingly from March till October, the thin, fibrous roots suffer if there is humidity, therefore the plant should be watered only when the surrounding terrain is dry. Keep dry as soon as the temperature starts dropping in October and keep it perfectly dry in winter at temperatures from 5 to 15 degrees centigrade.
Hardiness: They need to be kept in a cool place during winter rest and are somewhat resistant to frost if kept on the dry side prior to, and during, cold weather (due to the altitude they are hardy to -5 C ° C, or less for short periods). It tends to rot in winter during the resting phase, if kept wet. In the rest period no high atmospheric humidity!!
Sun Exposure: Light shade to full sun, its colour tends to richer and darker when grown in light shade.
Uses: It is an excellent plant for container growing. It always looks good and stays small.
Pests & diseases: It may be attractive to a variety of insects, but plants in good condition should be nearly pest-free, particularly if they are grown in a mineral potting-mix, with good exposure and ventilation. Nonetheless, there are several pests to watch for:
- Red spiders: Red spiders may be effectively rubbed up by watering the infested plants from above.
- Mealy bugs: Mealy bugs occasionally develop aerial into the new growth among the wool with disfiguring results, but the worst types develop underground on the roots and are invisible except by their effects.
- Scales: Scales are rarely a problem.
- Rot: Rot is only a minor problem with cacti if the plants are watered and "aired" correctly. If they are not, fungicides won't help all that much. To prevent rottenness it is also advisable to surround its root neck by very rough sand or grit, this help a fast water drainage.
Propagation: By seeds, remembering that seedlings dislike strong light and dry conditions and need to be repotted frequently. Eventually, as they become mature, they attain a maximum size of 8-10 cm (20) cm. However, old plants become senile and have a tendency to succumb to disease and a weak root system. At this stage, as is well known, they die suddenly. So, after they reach 10 cm in diameter grow them slowly, and adopt a new repotting period, using intervals of every 2-3 years. Additionally grow them under drier conditions or with stronger sunlight. But plants are often grafted to accelerate growth as they would generally take at least a five years to reach maturity on their own, but the grafted plants are typical rather tall growing, compared with plants on their own roots that are usually more flat to the ground.