Donate now to support the LLIFLE projects.
Your support is critical to our success.
Since 4 Aug 2013
sponsored link
Turbinicarpus macrochele subs. valteri
Con. Cap. Colt. Turbinicarpus – Rapicactus 223 (-225; figs.). 2004 [29 May 2004] nom. inval. nom. provis.
Family: CACTACEAE
Accepted Scientific Name: Turbinicarpus schmiedickeanus subs. macrochele (Werderm.) N.P.Taylor
Cactaceae Consensus Init. 5: 14. 1998 [see also: Panar.
Turbinicarpus macrochele subs. valteri Photo by: Valentino Vallicelli
Origin and Habitat: Collibus petrosis prope Xichu, Guanajuato (Mexico, Northern America)
Synonyms:
See all synonyms of Turbinicarpus schmiedickeanus
Description: It is a small geophytic solitary cactus with a large tap-root, and only the apical part of the stem exposed at soil level.
Stem: Flattened, spherical, mostly underground, 6-7 (-9) cm in diameter, up to 11 cm long.
Ribs: Arranged in tubercles, these are 15 mm long and 13 mm wide at the base, slightly angular, upper side keeled, however concave at the base, clearly keeled on the underside, arranged in spirals, opposite contact parastichy with a number relationship of 5:8 or 8:13, from grey-green to glaucous in colour.
Areoles: At first with reddish brown wool, later becoming grey.
Spines: 3-5, up to 20 mm long, flattened, cardboard-like, grey with dark tip, irregularly bent inwards, frequently weathered, not piercing.
Flowers: Cherry red to pink-magenta, with more intensely coloured mid-stripe 20-30 mm in diameter, 25-35 mm long, standing above the tubercles by about 10 mm, with approximately 22 inner (teptals), scale like perianth segments, more intensely red with pale edge. Pistil 15 mm long, white, standing above the stamens by around 2-4 mm, with 6 white, 1.5-2 (-2.5) mm-long stigma lobes.
Blooming season: From March to October, mainly between April and June
Fruit: 10 mm long, 5 mm in diameter, smooth, reddish-dark purple, brighter at the base, opening with 1-2 longitudinal tears.
Seeds: 1 mm long, 0.75 mm high.
Subspecies, varieties, forms and cultivars of plants belonging to the Turbinicarpus schmiedickeanus group
Bibliography: Major references and further lectures
1) Edward Anderson "The Cactus family" Timber Press, Incorporated, 2001
2) James Cullen, Sabina G. Knees, H. Suzanne Cubey "The European Garden Flora Flowering Plants: A Manual for the Identification of Plants Cultivated in Europe, Both Out-of-Doors and Under Glass" Cambridge University Press, 11/Aug/2011
3) David R Hunt; Nigel P Taylor; Graham Charles; International Cactaceae Systematics Group. "The New Cactus Lexicon" dh books, 2006
4) Davide Donati, Carlo Zanovello "Conoscere, capire, coltivare i Turbinicarpus-Rapicactus" Cactus Trentino Sudtirol, 2004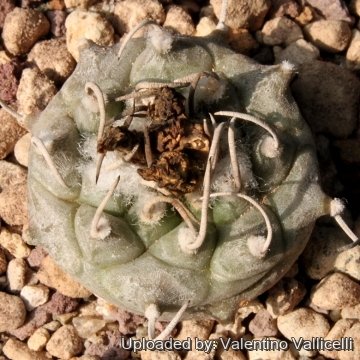 Turbinicarpus macrochele subs. valteri
Photo by: Valentino Vallicelli
Send a photo of this plant.
The gallery now contains thousands of pictures, however it is possible to do even more. We are, of course, seeking photos of species not yet shown in the gallery but not only that, we are also looking for better pictures than those already present.
Read More...
Cultivation and Propagation: It's a fairly easy and robust species to cultivate, but very slow growing. It needs a very well-drained soil, and requires strong sun to part sun to keep the plant compact and low and to develop a good spinal growth. Waterings should be rather infrequent to keep the plant compact, and avoid its becoming excessively elongated and unnatural in appearance. Furthermore it has a tap root, and watering it properly is often difficult, because it tends to crack open or rot if over-watered. Careful watering away from the body of the plant will allow the areoles to keep their wool. Keep dry in winter, or when night temperatures remain below 10° C. It is hardy to -4°C for a short period. Assure a good ventilation.
Reproduction: From seed, since the plant rarely produces plantlets, or grafted.