Donate now to support the LLIFLE projects.
Your support is critical to our success.
Since 4 Aug 2013
Accepted Scientific Name: Turbinicarpus schmiedickeanus (Boed.) Buxb. & Backeb.
Cactaceae (Berlin) 1937(1): Blatt 27. [25 Mai 1937] et: Jahrb. Deutsch. Kakteen-Ges. 1937, 1st Teil, 27.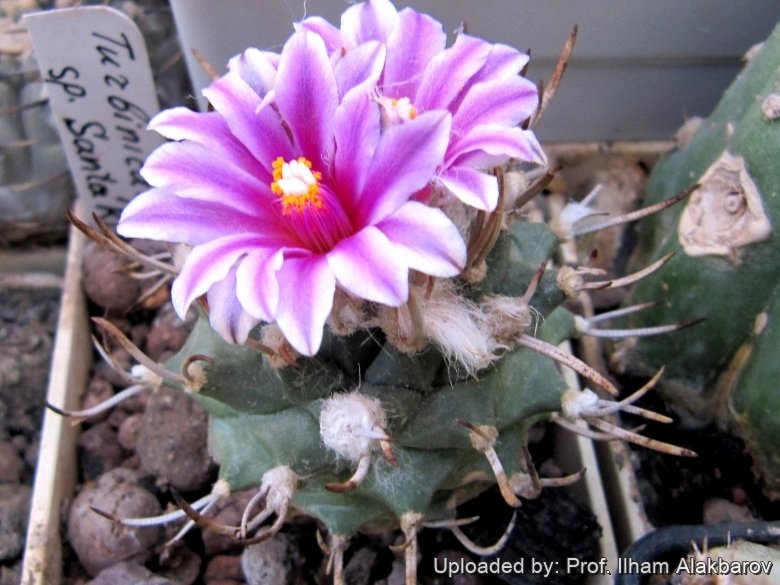 Turbinicarpus sp. Santa Rita Photo by: Prof. Ilham Alakbarov
Origin and Habitat: Santa Rita, San Luis Potosí, Mexico
Synonyms:
See all synonyms of Turbinicarpus schmiedickeanus
Description: Turbinicarpus sp. Santa Rita, a.k.a. Turbinicarpus schmiedickeanusSN|12648]]SN|12648]] var. Santa Rita or Turbinicarpus santaritensis, is a tiny form with magnificent and unique flower colouring revealing the difference.
Stem: Solitary or slowly clumping semi-globose greysh-green to bluish-green globose, 3-5 cm in diameter (but often larger in cultivation).
Flowers: Apical short tubed, tepals lanceolate, central strip bright purple, wider downward, margins of tepals pinkish white. Filaments purple, anthers golden-yellow to orangish and style pink, stigma lobes whitish.
Subspecies, varieties, forms and cultivars of plants belonging to the Turbinicarpus schmiedickeanus group
Cultivation and Propagation: It's a fairly easy species to cultivate. It needs a very well drained soil, and requires strong sun to part sun to develop good spinal growth. Waterings should be rather infrequent, to keep the plant compact and avoid it becoming excessively elongated and unnatural in appearance. Keep dry in winter or when night temperatures remain below 10° C; it is hardy to -4°C for a short period. Assure a good ventilation.