Donate now to support the LLIFLE projects.
Your support is critical to our success.
Since 4 Aug 2013
sponsored link
Accepted Scientific Name: Turbinicarpus schmiedickeanus subs. klinkerianus
Cactaceae Consensus Init. 5: 14. 1998 - Remarks: Panarotto (in Piante Grasse, 18(3): 120. 1998 (1999)) also published this comb. nov. (isonym)
Turbinicarpus sp. Negrita Photo by: Valentino Vallicelli
Origin and Habitat: La Negrita, San Luis Potosi, Mexico.
Synonyms:
See all synonyms of Turbinicarpus schmiedickeanus
Description: Turbinicarpus sp. NegritaSN|18308]]SN|18308]] is a trade name used to indicate a local form of Turbinicarpus schmiedickeanusSN|12648]]SN|12648]] subs. klinkerianus. The differences with other "klinkerianus" are in reality very minimal (if none) and most botanist agree on the fact that Turbinicarpus sp. NegritaSN|18308]]SN|18308]] should be included in the "klinkerianus", and the two plants are not readily distinguishable, if not for the label.
Habit: It is a small disk-shaped solitary or slowly clumping cactus, dichotomy also observed.
Stem: Globular depressed, 30-50 mm high, 35-40 mm wide, pale grey to greenish-brown, apex with some white wool.
Root: Taproot.
Tubercles: 1 cm broad and 6 mm high, pyramidal, angular and somewhat keeled, rhomboid at the base, arranged in flat spirals.
Areoles: on the tip of the tubercle, with a little wool, soon becoming bare.
Spines: 2-3, the lower one longer, up to 1 cm, the 2 upper ones only on young areoles, flattened below, curved towards the apex, grey-brown with dark tip, newly emerged centrals blackish brown, corky, rather soft, with transverse fissures. Juvenile radial spines are feathery and very characteristic.
Flowers: Apical, funnel shaped, inside ivory, outside with darker brown (or magenta) midribs 14-25mm wide. This plant is capable of blooming when it is little larger than 1 cm in diameter.
Blooming season: Summer (May-October) flowering.
Fruits: Green-brown with a woolly top.
Subspecies, varieties, forms and cultivars of plants belonging to the Turbinicarpus schmiedickeanus group
Bibliography: Major references and further lectures
1) Edward Anderson "The Cactus family" Timber Press, Incorporated, 2001
2) James Cullen, Sabina G. Knees, H. Suzanne Cubey "The European Garden Flora Flowering Plants: A Manual for the Identification of Plants Cultivated in Europe, Both Out-of-Doors and Under Glass" Cambridge University Press, 11/Aug/2011
3) David R Hunt; Nigel P Taylor; Graham Charles; International Cactaceae Systematics Group. "The New Cactus Lexicon" dh books, 2006
4) Davide Donati, Carlo Zanovello "Conoscere, capire, coltivare i Turbinicarpus-Rapicactus" Cactus Trentino Sudtirol, 2004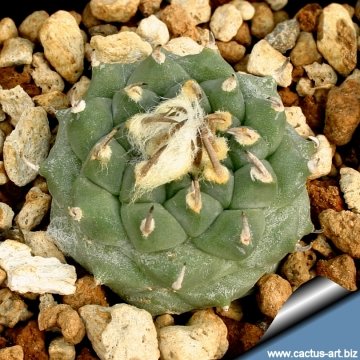 Turbinicarpus sp. Negrita
Photo by: Cactus Art
Send a photo of this plant.
The gallery now contains thousands of pictures, however it is possible to do even more. We are, of course, seeking photos of species not yet shown in the gallery but not only that, we are also looking for better pictures than those already present.
Read More...
Cultivation and Propagation: This species is relatively easy to cultivate. Requires full sun and careful watering to keep plant compact and low. It has a tap root, and watering it properly is often difficult and tends to crack open or rot if over-watered. Requires full sun and careful watering to keep plant compact. Hardy to -4°C for a short period.