Donate now to support the LLIFLE projects.
Your support is critical to our success.
Since 4 Aug 2013
Accepted Scientific Name: Turbinicarpus schmiedickeanus subs. klinkerianus
Cactaceae Consensus Init. 5: 14. 1998 - Remarks: Panarotto (in Piante Grasse, 18(3): 120. 1998 (1999)) also published this comb. nov. (isonym)
Turbinicarpus schmiedickeanus subs. klinkerianus f. pachystele Photo by: Alexander Arzberger
Origin and Habitat: Unknown.
Synonyms:
See all synonyms of Turbinicarpus schmiedickeanus
Description: Turbinicarpus schmiedickeanusSN|12648]]SN|12648]] subs. klinkerianus f. pachystele (Occasionally misspelled "pakistele")
is a trade name Turbinicarpus schmiedickeanusSN'>12648]SN|12648]] subs. klinkerianus. The differences with other "klinkerianus" are in reality very minimal (if none) and most botanist agree on the fact that "pachystele " should be included in the "klinkerianus", and the two plants are not readily distinguishable, if not for the label.
Habit: It is a small disk-shaped solitary or slowly clumping cactus, dichotomy also observed.
Stem: Globular depressed, 30-50 mm high, 35-40 mm wide, pale grey to greenish-brown, apex with some white wool.
Root: Taproot.
Tubercles: 1 cm broad and 6 mm high, pyramidal, angular and somewhat keeled, rhomboid at the base, arranged in flat spirals.
Areoles: on the tip of the tubercle, with a little wool, soon becoming bare.
Spines: 2-3, the lower one longer, up to 1 cm, the 2 upper ones only on young areoles, flattened below, curved towards the apex, grey-brown with dark tip, newly emerged centrals blackish brown, corky, rather soft, with transverse fissures. Juvenile radial spines are feathery and very characteristic.
Flowers: Apical, funnel shaped, inside ivory, outside with darker brown (or magenta) midribs 14-25mm wide. This plant is capable of blooming when it is little larger than 1 cm in diameter.
Blooming season: Summer (May-October) flowering.
Fruits: Green-brown with a woolly top.
Subspecies, varieties, forms and cultivars of plants belonging to the Turbinicarpus schmiedickeanus group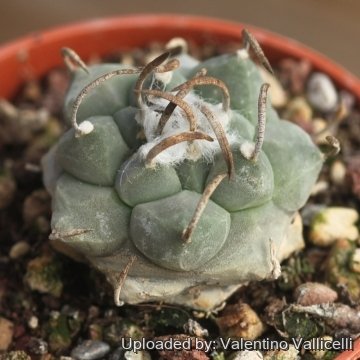 Turbinicarpus schmiedickeanus subs. klinkerianus f. pachystele
Photo by: Valentino Vallicelli
Send a photo of this plant.
The gallery now contains thousands of pictures, however it is possible to do even more. We are, of course, seeking photos of species not yet shown in the gallery but not only that, we are also looking for better pictures than those already present.
Read More...
Cultivation and Propagation: Turbinicarpus schmiedickeanusSN|12648]]SN|12648]] subs. klinkerianus f. pachystele is a fairly easy and robust species to cultivate, but very slow growing. It needs a very well-drained soil, and requires strong sun to part sun to keep the plant compact and low and to develop a good spinal growth. Waterings should be rather infrequent to keep the plant compact, and avoid its becoming excessively elongated and unnatural in appearance. Furthermore it has a tap root, and watering it properly is often difficult, because it tends to crack open or rot if over-watered. Careful watering away from the body of the plant will allow the areoles to keep their wool. Keep dry in winter, or when night temperatures remain below 10° C. It is hardy to -4°C for a short period. Assure a good ventilation.
Reproduction: From seed, since the plant rarely produces plantlets, or grafted.