Donate now to support the LLIFLE projects.
Your support is critical to our success.
Since 4 Aug 2013
Accepted Scientific Name: Turbinicarpus schmiedickeanus subs. macrochele (Werderm.) N.P.Taylor
Cactaceae Consensus Init. 5: 14. 1998 [see also: Panar.
Turbinicarpus schmiedickeanus subs. macrochele f. cristatus Photo by: Prof. Ilham Alakbarov
Origin and Habitat: Garden origin (Nursery produced cultivar)
Synonyms:
See all synonyms of Turbinicarpus schmiedickeanus
Description: Turbinicarpus macrocheleSN|12648]]SN|12661]] is a form of Turbinicarpus schmiedickeanusSN|12661]]SN|12648]] which is one of the most widespread and morphologically variable taxon. It has more flattened tubercles and fewer spines (1-4) thick and spongy, but showing the same, very distinctive, long, pink stigma lobes as the type. The crested form Ariocarpus kotschoubeyanusSN|2127]]SN|2127]] f. cristatus is very rare and sought after by collectors, for its unique features.
Root: Has a large tap root below the surface of the compost.
Stem: Fan shaped, flattened on top, depressed centrally along the line meristem, up to 4,5 cm thick, with a woolly spiny apex.
Tubercles: This subspecies has poorly developed tubercles.
Spines: 0-4 paper-like, thick and spongy (sometime as many as 6) up to 4 cm long
Flowers: White or (rarely) pinkish white at the apex, 18 mm long, 3,5 cm in diameter. Stigma lobes pink.
Blooming season: Blooms come in multiple periods from late winter to early fall.
Fruits: Small smooth, hidden in the apical wool, splitting when ripe.
Subspecies, varieties, forms and cultivars of plants belonging to the Turbinicarpus schmiedickeanus group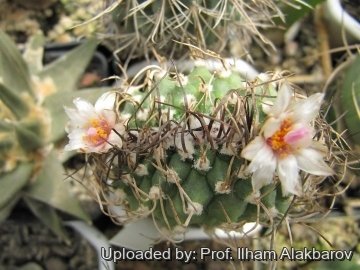 Turbinicarpus schmiedickeanus subs. macrochele f. cristatus
Photo by: Prof. Ilham Alakbarov
Send a photo of this plant.
The gallery now contains thousands of pictures, however it is possible to do even more. We are, of course, seeking photos of species not yet shown in the gallery but not only that, we are also looking for better pictures than those already present.
Read More...
Cultivation and Propagation: Although regarded as a choice and difficult plant is not too difficult in a greenhouse, although grows quite slowly. It is sometime seen as a grafted plant but grows very well on its own roots too.
Soil: Use mineral well permeable mineral soil with little organic matter (peat, humus).
Exposure: They need a good amount of light shade to full sun this help to keep the plants healthy, although slow growth.
Watering: Water sparingly from March till October (weekly during summertime, if the weather is sunny enough) , with a little fertilizer added. Less or no water during cold winter months to prevent root loss. It is sensitive to overwatering (rot prone).
Hardiness: Keep perfectly dry in winter at temperatures from 5 to 15 degrees centigrade. (but it is relatively cold resistant and hardy to -5° C for short periods) In the rest period no high atmospheric humidity!! (Temperature Zone: USDA 9-11)
Propagation: Grafting or cuttings. Plants are usually grafted onto column-shaped cacti but proved to be able to produce their own roots if degrafted.