Donate now to support the LLIFLE projects.
Your support is critical to our success.
Since 4 Aug 2013
sponsored link
= Turbinicarpus schmiedickeanus subs. klinkerianus f. aurata hort.

Accepted Scientific Name: Turbinicarpus schmiedickeanus subs. klinkerianus (Backeb. & H.Jacobsen) N.P.Taylor
Cactaceae Consensus Init. 5: 14. 1998 - Remarks: Panarotto (in Piante Grasse, 18(3): 120. 1998 (1999)) also published this comb. nov. (isonym)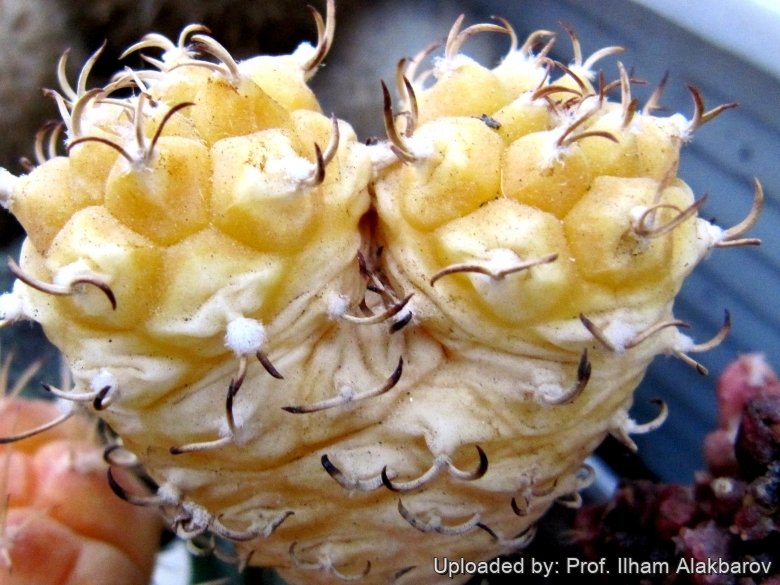 Turbinicarpus klinkerianus f. aurata (Turbinicarpus schmiedickeanus subs. klinkerianus f. aurata) Photo by: Prof. Ilham Alakbarov
Origin and Habitat: Garden origin (Nursery produced cultivar)
Synonyms:
See all synonyms of Turbinicarpus schmiedickeanus
Description: Turbinicarpus schmiedickeanusSN|12679]]SN|12648]] subs. klinkerianus best known as: Turbinicarpus klinkerianusSN|12648]]SN|12679]] is a one of the several local form of the very variable Turbinicarpus schmiedickeanusSN|12679]]SN|12648]] distinguished for having pyramidal tubercles and only 3 corky spines per areole, with only one persisting, and ivory white flowers with magenta midribs. This subspecies exhibits wide diversity in form.
Forma aurea or aurata (yellow form): The schizochromic form (Turbinicarpus klinkerianusSN|12648]]SN|12679]] f. aurata) has pale yellow stems due to the absence (or reduced production) of chlorophyll pigments: every other pigment is present at normal levels, the dominant green colouration is lost, but will still more than likely have normal other pigments that give the yellow overall appearance of the stem. This form with yellow stems is very attractive and highly prized. This schizochromic form is almost always seen grafted on stronger columnar species, and cannot can be grown on its own roots. However some clones have enough chlorophyll in their tissues and can be grown on they own roots too, but very slow growing.
Habit: It is a small disk-shaped solitary or slowly clumping cactus, dichotomy also observed.
Stem: Globular depressed, 30-50 mm high, 35-40 mm wide, yellow, apex with some white wool.
Tubercles: 1 cm broad and 6 mm high, pyramidal, rhomboid at the base, arranged in flat spirals.
Areoles: On the tip of the tubercle, with a little wool, soon becoming bare.
Spines: 2-3, the lower one longer, up to 1 cm, the 2 upper ones only on young areoles, flattened below, curved towards the apex, grey-brown with dark tip, newly emerged centrals blackish brown, corky, rather soft, with transverse fissures. Juvenile radial spines are feathery and very characteristic.
Flowers: Apical, funnel shaped, inside ivory, outside with darker brown (or magenta) midribs 14-25mm wide. This plant is capable of blooming when it is little larger than 1 cm in diameter.
Blooming season: Summer (May-October) flowering.
Subspecies, varieties, forms and cultivars of plants belonging to the Turbinicarpus schmiedickeanus group
Bibliography: Major references and further lectures
1) Edward Anderson "The Cactus family" Timber Press, Incorporated, 2001
2) James Cullen, Sabina G. Knees, H. Suzanne Cubey "The European Garden Flora Flowering Plants: A Manual for the Identification of Plants Cultivated in Europe, Both Out-of-Doors and Under Glass" Cambridge University Press, 11/Aug/2011
3) David R Hunt; Nigel P Taylor; Graham Charles; International Cactaceae Systematics Group. "The New Cactus Lexicon" dh books, 2006
4) Davide Donati, Carlo Zanovello "Conoscere, capire, coltivare i Turbinicarpus-Rapicactus" Cactus Trentino Sudtirol, 2004
Cultivation and Propagation: Variegated and albinous cacti are regarded as choice and difficult in cultivation, but despite that many of them are relatively easy to grow. But be aware that they cannot tolerate prolonged exposure to direct sun light (especially during the hottest summer days), so grow them in half-shade or under filtered sun. They are sometime seen as grafted plants, but many grow well on their own roots, too.
On the contrary, the albinos can survive only if grafted on a strong green base.
Use mineral well-permeable substratum with little organic matter (peat, humus). Water sparingly from March till October and keep perfectly dry in winter at temperatures from 5 to 15 degrees centigrade. (In general these plants are more tender and cannot endure freezing temperatures ) In the rest period no high atmospheric humidity!!
Propagation: Usually by seed. Plants are often grafted onto column-shaped cacti.