Donate now to support the LLIFLE projects.
Your support is critical to our success.
Since 4 Aug 2013
sponsored link
Accepted Scientific Name: Rebutia pygmaea (R.E.Fr.) Britton & Rose
Cactaceae (Britton & Rose) 3: 47, fig. 60. 1922 Britton & Rose
Rebutia gracilispina Photo by: Valentino Vallicelli
Origin and Habitat: Reported from Bolivia, Potosi, Sud Chicas, Mai Paso, at 4000 m altitude, where it is scarce.
Synonyms:
See all synonyms of Rebutia pygmaea
Accepted name in llifle Database:
Rebutia pygmaea
(R.E.Fr.) Britton & Rose
Cactaceae (Britton & Rose) 3: 47, fig. 60. 1922
Synonymy: 200
Description: The following description of this species is based on Rebutia gracilispinaSN|4416]]SN|4540]] F.Ritter 1977 sensu stricto (Collector's number referred here is FR 1118). But plants in circulation under this name do not match up exactly with Ritter's description, most noticeably in their clearly defined ribs, unlike the much less defined ribs required by Ritter, and plants matching up to Ritter's description have not appeared in cultivation.
But if we consider the numerous synonyms, form and variety of this very variable taxon (Rebutia pygmaeaSN|4540]]SN|4416]]), all the value of size, colour, flower and spines characteristic can change considerably.
Habit: Very small clumping geophytical cactus.
Stem: Individual heads globose, later columnar, with green body colour
Ribs: Loosely defined.
Areoles: Small, to 0.7mm long, with white wool.
Radial spines: Very thin, numbering 7 to 10, pectinate, about 2mm long, white, red-brown at the base;
Central spines: Absent or occasionally one similar to radials.
Flowers: Intense vermilion to scarlet, stigma yellowish-white.
Roots: tap root:
Subspecies, varieties, forms and cultivars of plants belonging to the Rebutia pygmaea group
Bibliography: Major references and further lectures
1) Edward Anderson "The Cactus family" Timber Press, Incorporated, 2001
2) James Cullen, Sabina G. Knees, H. Suzanne Cubey "The European Garden Flora Flowering Plants: A Manual for the Identification of Plants Cultivated in Europe, Both Out-of-Doors and Under Glass" Cambridge University Press, 11/Aug/2011
3) David R Hunt; Nigel P Taylor; Graham Charles; International Cactaceae Systematics Group. "The New Cactus Lexicon" dh books, 2006
4) N. L. Britton, J. N. Rose "The Cactaceae. Descriptions and Illustrations of Plants of the Cactus Family." Volume 4, The Carnegie Institution of Washington, Washington 1923
5) Curt Backeberg "Die Cactaceae: Handbuch der Kakteenkunde" Gustav Fischer Verlag, Stuttgart New York 1982–1985
Rebutia gracilispina
Photo by: Valentino Vallicelli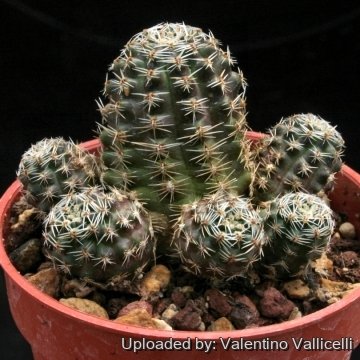 Rebutia gracilispina
Photo by: Valentino Vallicelli
Rebutia gracilispina
Photo by: Valentino Vallicelli
Rebutia gracilispina
Photo by: Cactus Art
Cultivation and Propagation: Rebutia gracilispinaSN|4416]]SN|4540]] is a summer grower species that is easy to cultivate and recommended for beginners. The whole Rebutia pygmaeaSN|4540]]SN|4416]] complex has delightful flowers and the plants remain compact, and clumps can easily be managed by division. Another advantage is that the plants are very cold hardy in Winter if kept dry.
Growth rate: It is a slow growing but easily flowering species that will make clumps given the best conditions.
Soils: It likes very porous standard cactus mix soil with a pH slightly on the acidic side.
Repotting: This species will occupy a small flower pot comfortably and remain a manageable sized house plant, repotting should be done every other year or when the it has outgrown its pot. Use pot with good drainage.
Watering: Needs moderate to copious waterings in summer, but do not overwater (the root system is rot prone) and allow the pot to dry out between waterings. Keep dry in winter at a minimum temperature of 0°C.
Fertilization: Feed with a high potassium fertilizer in summer.
Hardiness: It is reputedly resistant to frost if kept on the dry side prior to, and during, cold weather and requires a winter rest period (hardy to -12 C ° C, or less for short periods), but for safe cultivation it is best to avoid freezing temperatures. It does not like high temperatures in summer, and will be perfectly happy in pots outdoors from April to September if protected from torrential rain and hail
Exposition: The plant tolerates extremely bright situations but enjoys filtered sunlight or afternoon shade, inside it needs bright light, and some direct sun. Tends to bronze in strong light, which encourages flowering and heavy spine production, but is likely to suffer from sun scorch or stunted growth if over exposed to direct sunlight during the hottest part of the day in summer.
Uses: It is an excellent plant for container growing. It always looks good and stays small. It look fine in a cold greenhouse and frame or outdoor in a rockery.
Pests & diseases: It may be attractive to and liable to damage by spider mites and thrips
but plants in good condition should be nearly pest-free, particularly if they are grown in a mineral potting-mix, with good exposure and ventilation.
Rot: This species is particularly easy and accommodating, seldom suffer of cryptogamic diseases. Rot it is only a minor problem with rebutias if the plants are watered and "aired" correctly. If they are not, fungicides won't help all that much.
Propagation: Division, direct sow after last frost. Seeds germinate in 7-14 days at 21-27° C in spring, remove gradually the glass cover as soon the plants will be well rooted (ca 1-2 weeks) and keep ventilated, no full sun for young plants! To make a cutting twist off a branch and permit it to dry out a couple of weeks, lay it on the soil and insert the stem end partially into the soil. Try to keep the cutting somewhat upright so that the roots are able to grow downward.
Note: It would appear that in cultivation they grow larger and cluster more vigorously than in habitat.